Assignment: Darwin Lecture at BYU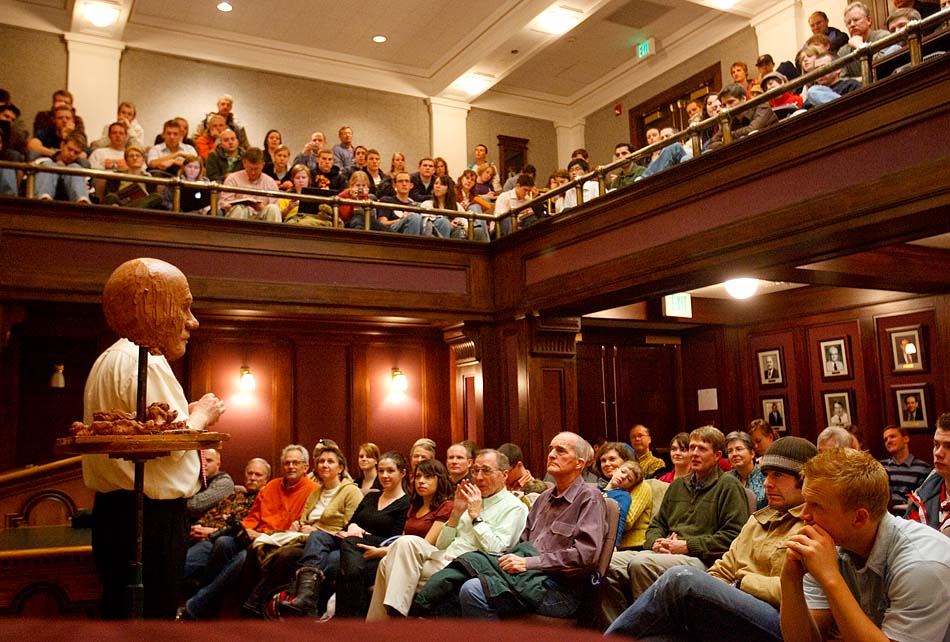 Provo - Prof. Daniel Fairbanks, a biologist at UVU, a devout Mormon and a sculptor, gives a lecture on evolution and the legacy of Charles Darwin while sculpting a bust of Darwin in BYU's Maeser Building. "But I can't see his face!" Yeah, he's standing behind the clay head. Silly me. In posting a photo from every single assignment I've learned about how I shoot and what I submit. I had expected to be posting some really awful images, but that was the medicine required to start making better photographs. What I've realized is that for every challenging assignment, I'm getting at least one interesting photograph. So maybe it's not my photography that has been lacking lately. That said, I've noticed that the interesting photographs that I'm getting aren't always the ones that I'm sending in. And when I do, they aren't always making the paper. So there's something else to work on. But I intend to keep posting lots of photographs, at least one from every assignment. Having this required outlet is causing me to push a little harder. If you are a photographer, I highly recommend challenging yourself in some way. And do it in front of an audience so that you've got the pressure to keep going.
Chris: That is pretty funny. The facial expressions of the people in the crowd are also amusing. This should run 6 columns.
tim: Talk about making something out of nothing with that. Nice work.