Last Update: Saturday, 8:39 am.
.:.
Thursday, 8:45 am
I'm all packed and waiting for Nate to pick me up. I'm packing two laptops, two Nikons, a Fuji, a Sony, an iPhone. More variety in cameras than most of my colleagues.
Always wondered about that - whether I would have been better off intimately learning one system and sticking with it. But while I've always had an SLR system (Canon then Nikon then Canon then Nikon), I've always had a Leica or Mamiya or Hasselblad Xpan or iPhone or Fuji X100 or Sony RX-100 in there spicing up the mix.
These other cameras have their pros and cons. Mostly they've been smaller and silent and more invisible/less intrusive, allowing me to get photos that an SLR just doesn't. As for the Mamiya 7 (and now, 6) and the Xpan, they allowed me to work in other formats that I now approach digitally (you really should see the 2,500+ panoramas I've made for a project I've been doing for a couple years now).
On the Nikon side, I've got everything from 14mm to 600mm (840mm with teleconverter). And two strobes and two video LED lights, which I very much prefer for lighting.
Nate just texted, "On my way to you." So that's enough for camera talk.
More later…
.:.
Thursday, 6:51 pm
It's funny to me now, the idea that I would just be merrily updating this site while I did a work trip.
But I'll try here in the few minutes I have before we head out to get some food.
The drive - through the nothing of middle Utah - is always long.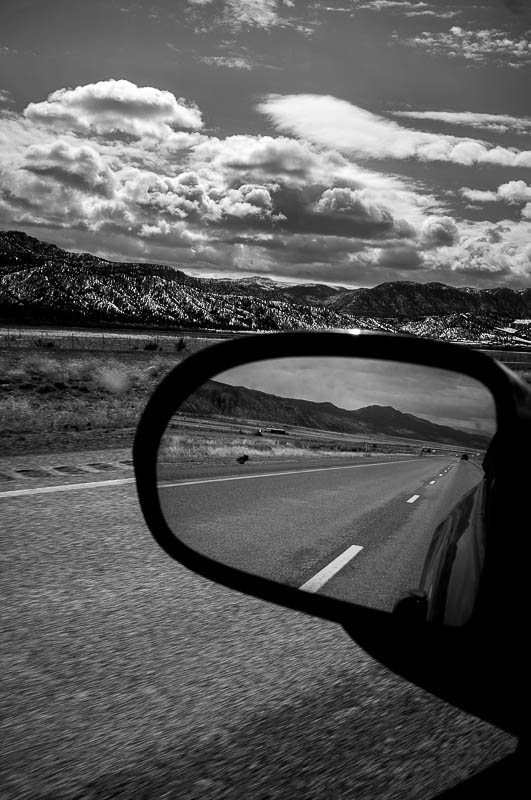 We turned on the radio and listened to some patriot show, where everything you here is about some crisis or another. The first commercial break had these topics:
Infidel Body Armor
some kind of product where you breathe in silver dust for better health
home alarm systems
One World whey protein powder
Then later there was an ad for a company that let's you privately buy firearms, without leaving any trace.
More later…
.:.
Friday, 8:14 am

Hello?
Yeah

Where have you been? You promised regular updates and stuff...
Whoa —- since when did anything I promise on this site come true?
Still, I know.
Dinner. Then there are a couple of computers doing all kinds of stuff in the hotel room. I don't know how all of these systems developed, but they did and I am their slave.
Processing photos, helping set up an e-mail server, scouring the web, converting 800 photos to DNG, then geotagging them, exporting them.
I did pull two photos from yesterday that I was going to post, and didn't.
Here is what I can say about yesterday at this point…
We drove into Short Creek and met someone for an interview. Lots of first person information that we hadn't heard before, and I can't write about any of it here until we publish that stuff.
After that we drove around town to check on all the usual things we check on. I photographed what is there, but there wasn't a lot. The twin towns have become more quiet, and you don't see as many people outside. This drive-by photography is the worst. You really can't get the sense of the community from your car.
A call from the office required that we head back to the hotel so we left town.
Now it's Friday morning and we are waiting to see if a few things pan out. If they don't, we're back on the road.
Here are a couple of photographs from yesterday…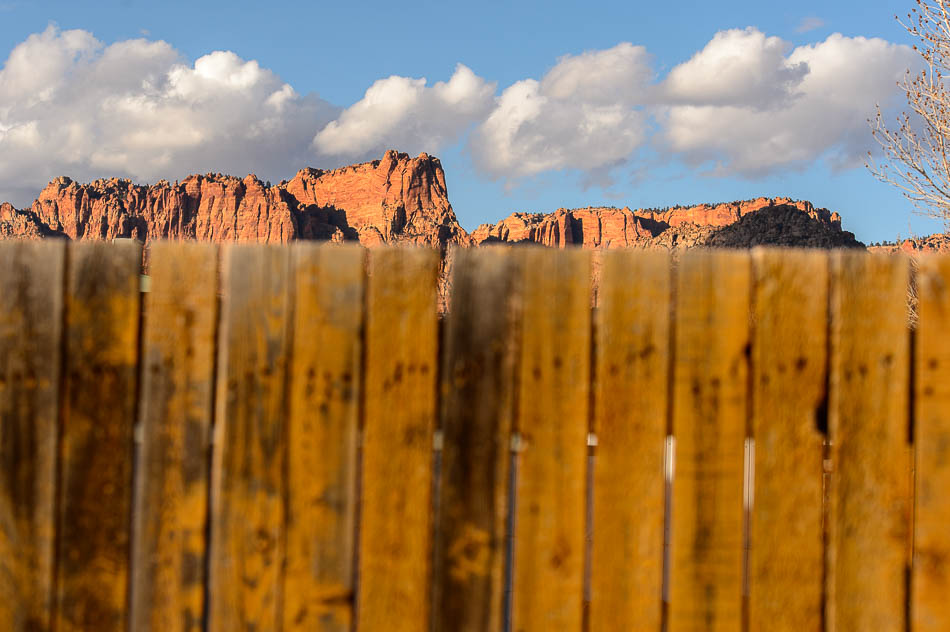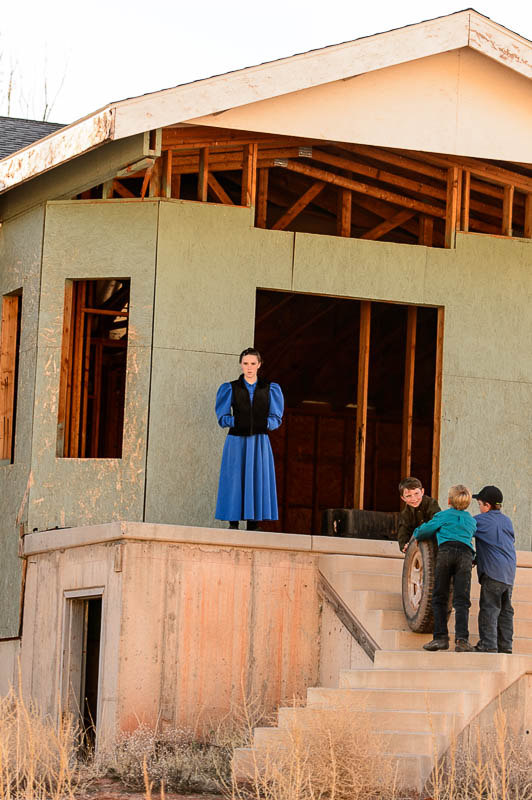 .:.
Saturday, 8:39 am
The phone rang yesterday around 9am. The guy we were trying to meet up with hadn't responded so let's hit the road in fifteen minutes.
I started packing up.
The phone rang again. He just called so let's go meet him at the Merry Wives cafe.
The Merry Wives is a good place to eat (kind of the only place to eat) in Short Creek, but one of the worst for a good conversation that should stay private. We drove over to Cottonwood Park to talk.
Photos got missed. Driving to Cottonwood Park we saw kids from an FLDS school playing at recess, swinging as high as they can go on a swingset, in prairie dresses. A boy had climbed up in a tree. I was driving and we were following someone so there was no chance to stop for a photo or even shoot one out the window as we passed.
In the park we put on our jackets and talked at a picnic table, with kids playing on various decaying playground structures around us - slides, swings, monkey bars - but I didn't photograph them. Red dress, purple dress. When we left the park, we passed the row of ancient rusty farm equipment that is out on display. Three boys stood near an old rusty pickup truck from the 1940s, and the boys were dressed as if it was still the 1940s.
It was a great scene, but for whatever reason I don't photograph it. Photographing children from the car always reminds me of what covering this story has always meant.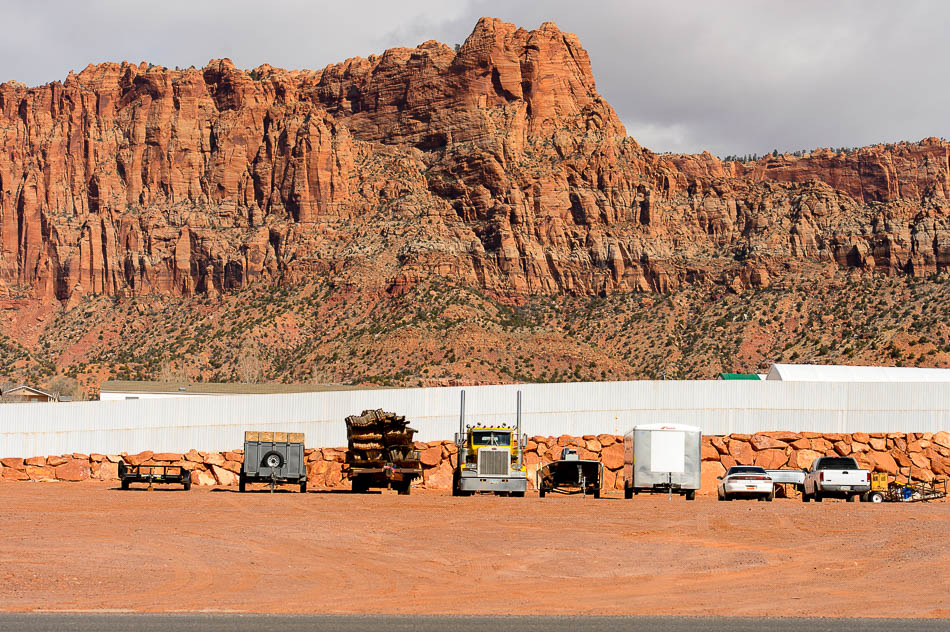 It has meant us knowing about all kinds of things - great stories - that we can't report, because nailing them down is always just out of reach. Limited budgets and staffing now also keep us at a distance. Photographing the community out of a car window? It's getting old.
I have a plan to fix that, but it would require making a serious commitment.
After that, we drove home.