Annie Knox wrote the greatest article…
Of course, it being 2014, LDS Business College and Brigham Young University don't allow students to wear beards. So there's a kid over at LDS Business College…
Paolo Quezada, a 23-year-old student from California, stopped shaving in recent weeks to be an extra in an upcoming LDS Church film about the Bible — an allowable exception to the school's beard ban.
But just so everyone knows he has a good excuse for bearding…
"It was like a beard badge of shame," he said, referring to the school-issued permit he was required to wear on a lanyard.
I love it. He's forced to wear a beard permit. These are college kids. Could this possibly be funnier?

Excuse me sir, do you have a permit for that beard?!
I know. It's just hilarious.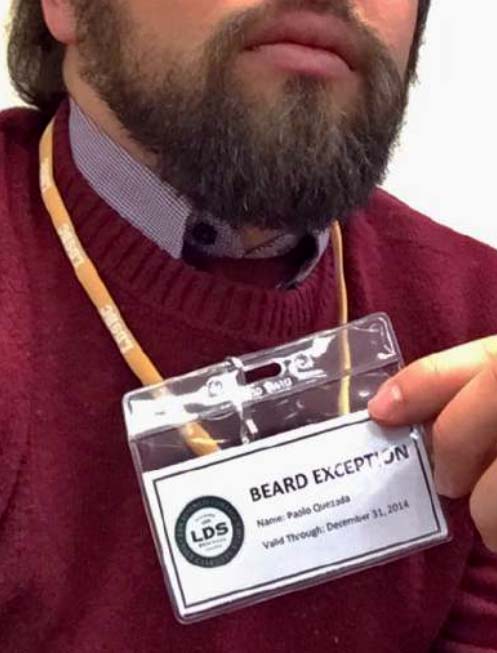 And then this:
he learned would have to wear the new identification on a lanyard, an honor code officer told him, along with a shirt and tie "to compensate" for the beard.
(the sound of loud laughing)
Quezada thought the new requirement was overkill, but agreed, knowing he could shave after the film in a few weeks. Then other students started snickering.
(the sound of more laughing)
"They literally stopped, they pointed and they laughed," he said. He went home and shaved that day. "I couldn't take it anymore."
(the sound of someone gasping for breath, laughing)
Quezada said. "I got a lot of hurtful messages like, 'you're a shame to returned missionaries.' "
Oh, I'm dying here. (more laughing)
He has heard no word on when filming will happen, and had planned on not getting paid for the part.
(more laughter)
"I'm just honestly over the whole thing," he said. "I just wanted to apologize to anyone if they've been offended by me."
(even more laughter, sound of a chair falling over backward)

Someday I might be able to forgive you, Paolo
Annie Knox's article: http://www.sltrib.com/news/1867918-155/beard-ban-at-mormon-schools-getting
.:.
And also…
Gave it a shot with another Utah Photojournalism site, this time with a cloud server-hosted Discourse install.
Discourse is amazing, I really love it for this type of project. Unfortunately, no traction with the specific community I chose to run it with. And since the cloud hosting is costing me at least ten bucks a month, the site will probably vanish in a week or so.
Yeah, it sucks, but really. What else to do? I'm just not going to keep something going that has zero traction. However, since the software is amazing and the problem is the community, maybe I need to switch up communities.
You'd think it would be easy to grab a bunch of cool people and bring them into a better version of social media that's not owned by billionaires in California.
Anyone else noticing that most of the tech companies are making billions of dollars off of freely contributed work and content? Or copyrighted material (hi Tumblr)? I'm pretty much done with that, and I hardly post on any of those platforms anymore.
Also, anyone notice that most tech coverage is just about new gadgets, and no one is analyzing the bigger societal issues of tech? Anyone else noticing that a lot of (the) tech journalists (that I listen to) just worship every billion dollar tech company no matter how stupidly bro-tastic their executives behave?
The tech companies are getting a pass.
Anyone else still reading?
.:.
So I guess I need to find the people I want to be in touch with, grab a new domain for a killer Discourse site and build it. I'd pay ten bucks a month for a privately-owned site where my cool friends could share and talk.
Me and three other friends have a text thread on our phones that kicks ass over any facebook-type situation. It's just the four of us, and we can share whatever we like without any reservations. That's the kind of thing I need to set up, but with a few more people.
Soon. The end/beginning of the year is a great time for a project like this.